Welcome to the DMNC's website. Over time, we hope this site provides increasingly valuable information for our neighborhood. If you would like to help with the site or provide material, please contact the volunteer Webmaster - Debbie Martin at wildtrax@dcn.org. We also want to thank the Davis Community Network for providing us this site for free!

Presently, we need some friends of the path to the community garden to help in planting, mulching/weeding, and occasionally watering this stretch. Day jobs or long-term options. Good vibe benefits. Contact any board member if you are interested.
Davis Neighbors' Night Out
= Happy Hour Expanded
Sunday, October 15, 2017
4:00 p.m. to 7:00 p.m.
Colgate Dr. between M & N

4 p.m. Street Festival!
Happy Green Streets Exibit:Check out the results of recent workshops envisioning our neighborhood's future.
FunZone: Play games and create art for our Green HeART tree and time capsule. Carve pumpkins, which will be provided. Supervision for children uunder 10 requested.
Hay Lounge: Chill, chat, enjoy live music.
Driveway Theater @"Chateau Relaxo": in the Hood, MC'ed by neighbor Thom Sterling. Contact Tom at tsterling@sonic.net if you have a talent to shre
5:30 p.m. Potluck Dinner!Bring food and drinks to a share and to help us minimize wste Note: This event will replace the October First Friday Happy Hour.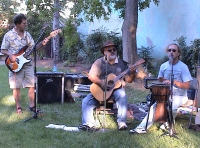 ... more photos
June 27th Green Streets Meeting Notes - If you missed the meeting and want to get more involved, please contact one of the people named in the notes.
June 7th Green Streets Meeting was held with Kevin Perry to determine next steps. View June 7th notes.

May 17th special guest speaker Kevin Perry spoke to our neighborhood about potential ways to make our streets more green, sustainable, and pedestrian friendly. If you missed it read the meeting notes and view Kevin Perry's slide show.
M and Duke Street Mural Photos
Mark Lakeman of The City Repair Project spoke to our neighborhood on March 15, 2016. If you missed it, view his Ted Talk to spark ideas for our neighborhood.
Missed Neighbors' Night Out and Dare to Imagine? View the video here. We welcome news and new ideas.


To post an announcement, contact Debbie.